Welcome To Our Practice
Thank you for choosing us as a partner in the care of your patient. Our goal is to provide state-of-the-art medical care for pets so they may live better and longer lives. We start with an empathetic approach – we understand the stress of illness. We then implement innovative but practical problem solving techniques. Lastly and most importantly, we work together. Here's where to start …
If a patient is in critical condition, please call the Emergency Room at 703-777-5755
Request an appointment
Please ask your client to call us to schedule an appointment at 703-777-5866, use our website to request an appointment, or stop in and see us. We will schedule a first available appointment for them. Please call us directly if you would like your patient to be seen sooner, on an urgent basis. If the patient is unstable, we recommend that the patient be brought directly to The LifeCentre and admitted as an emergency patient. Once stabilized, an Internal Medicine consultation will be performed and the patient transferred to the care of the Internal Medicine team. If you have any questions at all, please contact us so that you may speak directly with an internist or an LVT prior to the appointment.
Referral Preparation
Timely information is critical to the success of any medical care plan.
Please complete a
Patient Referral Form
and email it with the medical records and imaging to us at least one to two days prior to the appointment. Include doctor's notes and test results for the last 6 months with the medical record. Please ask the client to hand-carry radiographs which are not digital with them. Back-up copies of medical records are helpful as well. Excellent veterinary care begins with complete history information and, combined with careful diagnostics, will help move us towards the goals we establish together. Please feel free to call us in advance. We especially appreciate your sharing of delicate information such as sensitive patient concerns, family considerations, or unique circumstances. Our care encompasses the entire family, not just the patient. Please email the Referral Form, medical records, and lab tests to us at
[email protected]
Client and Patient Preparation
Client should complete the
Patient Registration Form.
Please ask the family to complete the Patient Registration Form. They may email it to us in advance or bring it at the time of their appointment. Patients should be fasted for their appointments unless otherwise arranged.
Appointment day
Email any new test results to us at
[email protected]
. During the appointment we will perform a comprehensive review of the patient's history and previous diagnostic tests. Diagnostics will be performed, results reviewed, and a complete treatment plan developed. At the end of the day a written summary will be given to the client. We will then share with you a complete report with details of diagnostics performed, diagnosis and recommendations. If there are special circumstances (e.g. the patient is returning to you for immediate care) or upon your request, we will call you with an update.
We believe that working together with you, our team of specialists, and the client allows us to deliver the best of care and innovative treatment for better and longer lives for our patients.
If you have kudos or concerns to share, or simply an idea for how we can do things differently, please call us at 703-777-5866. We would love to hear from you. You may also send us a message here.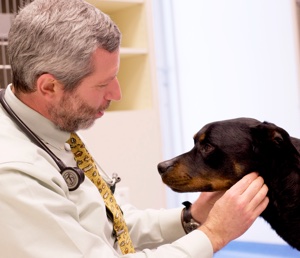 Request a Call

Specialized equipment including the Hyperbaric Oxygen Treatment Chamber