Natasha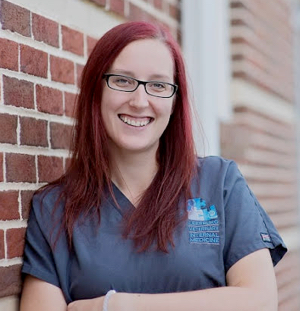 Since starting with LVIM in 2010, Natasha has worked hard to create a team that is patient and client oriented. Her primary focus as Practice Coordinator and Lead Technician is for LVIM to be a part of your patient's whole life, to help to create more meaningful relationships through building trust, and working from a place of compassion and empathy. At home, Natasha spends her time with her family (both animal and human!) and enjoys traveling, being in nature, and cooking. You may catch her at a local farmers market supporting local farmers or on a mountain top enjoying the view.
Cindy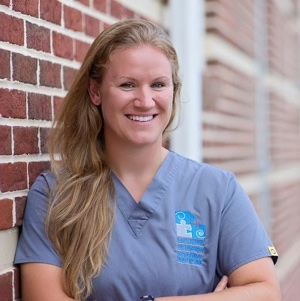 Cindy came to LVIM in the fall of 2014 with over 6 years of experience in small animal and emergency medicine. Prior to becoming a licensed veterinary technician, she obtained her BS in Biology at Bridgewater College. Fulfilling her long time childhood dream, she decided while at Bridgewater that her path would be helping animals in a small animal hospital setting where she could provide compassionate care to patients and education to pet owners.
Cindy and her family reside in Purcellville with their 2 cats, Rocky and Olive, horse named Chip, and steers. In her spare time, Cindy enjoys spending time with her family, running, being outdoors and tending to 'the farm.'
Caroline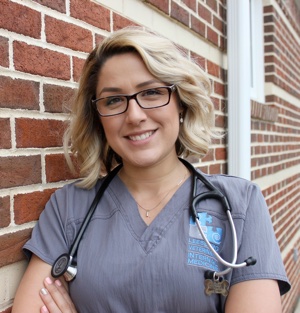 Caroline has been a Licensed Veterinary Technician since 2011. She first realized her love of veterinary medicine in 2005 when she was in high school and working part time for a local small animal practice in Charles Town, WV. Caroline obtained her Veterinary Technology Degree from Fairmont State University in 2011 and her Communications degree from West Virginia University in 2015. She joined the Leesburg Veterinary Internal Medicine team in August of 2015, she comes to the LVIM family with 10 years of small animal and equine medicine experience. Caroline greatly enjoys working with our clients and patients and has a tremendous amount of admiration for their bright spirits and bravery.
Caroline resides in Harpers Ferry, WV with her three dogs; Duke a Great Dane, Pedro a 1 eyed rescue Chihuahua, Leo a Pomeranian, and her cat Finnick. In her spare time she enjoys riding horses. Caroline also volunteers for World Vets, which sends her all over the world to help provide free veterinary care to local residents and their animals living in economically depressed areas. She welcomes and appreciates any opportunity to give back to animals (and their humans) through volunteer efforts.
Katti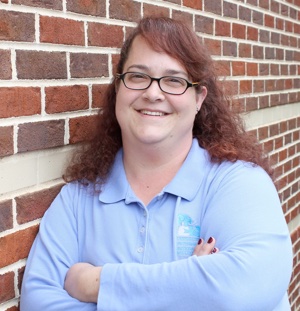 Katti began her journey at The LifeCentre in late 2011 as a Client Services Representative with Animal Emergency Critical Care. Shortly thereafter she began expanding her knowledge of Veterinary Internal Medicine. She became the Leesburg Veterinary Internal Medicine Client Services Representative in June 2014.
Katti loves working with the public and getting to meet their pets. She also has a personal understanding of a client's perspective as her own pets have received care internists. We can't forget about Mr. Kitty, the families orange and white tabby, who has been renamed several times recently by Katti's daughter. In her free time, Katti enjoys going to the park and attending activities with her daughter.
Jenny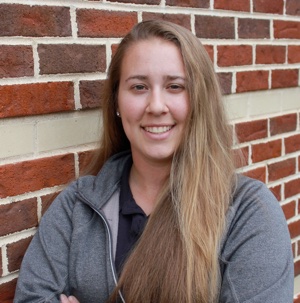 Jennifer is originally from Laurel, Md and is LVIM's part time client service representative. She comes from an equine background and prior to joining our team taught equine husbandry and handling to people of all ages. She has a 6 year old yellow lab named Bailey and a 23-year-old thoroughbred named Scottie with whom she spends most of her time when not at work. Jenny feels that the proper care and love of all animals is important and enjoys working with clients and patients at LVIM to follow her passion of animal care.
Tomi Jean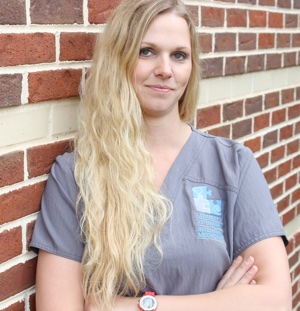 Tomi Jean has worked in family practice and specialty for 12 years. Joining LVIM in early 2016, she enjoys specializing in animal and client care through her work at LVIM. Her focus is to ensure that you and your pet have a great experience during your visit. Tomi Jean shares her time outside of work with 3 pets she's adopted from TLC including her dog, Diesel, and her two cats, Angel and Boots.